Control module for selected modules of Hitachi Primaide HPLC System
The Hitachi Primaide Control module allows for direct control of selected modules of Hitachi Primaide HPLC System. The control is performed via USB.
The control module allows the digital acquisition of the detector signal and direct control of the system pumps, column oven and autosampler. The user can easily create control method from the dedicated tabs of the Method Setup dialog: LC Gradient, Acquisition, AS and Thermostat. All of these parameters are then saved as a part of the method and can be added as a part of the report. Actual signals of the detector can be viewed during the analysis in the Data Acquisition window.
A single Clarity station can only control one Hitachi Primaide HPLC system. This is the restriction of the communication protocol used to perform the instrument control.
The control of the Hitachi Primaide HPLC system is a part of Clarity VA Chromatography Software which is available only in selected territories through companies approved by Hitachi company. Please contact us for details.
Note: Hitachi-AID (analog input board) is not supported. For analog signal acquisition please use our A/D converter Colibrick.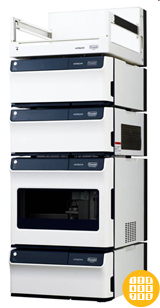 ---
Specification
Hitachi Primaide Control
Communication interface
USB
Purchasing
LC Control - (p/n A24)
AS Control - (p/n A26) - when autosampler is present
PDA Extension - (p/n A29) - when DAD detector is present
Related products
Clarity (p/n C50)
Cable
USB A-B (p/n SK06)
| | |
| --- | --- |
| | List of controlled subdevices of the Hitachi Primaide HPLC system: |
| Detectors | 1410 UV, 1430 PDA |
| Pumps | 1110 |
| Autosamplers | 1210 |
| Column Ovens | 1310 |