Zebrick USB D/A and D/f Converter
Zebrick is D/A and D/f converter for controlling LC pumps.
Zebrick is designed for controlling LC pumps that can be driven by frequency or voltage using Clarity chromatography software. Zebrick operates with up to 4 D/A converters, 4 D/f converters and 8 auxiliary logical inputs and outputs.
LC pump control is available as an option to the Clarity sofware. Control can be accomplished using Method Setup - LC Control and LC Monitor dialogs accessible from the Instrument window.
Zebrick is successor to the CB20 D/A and D/f card.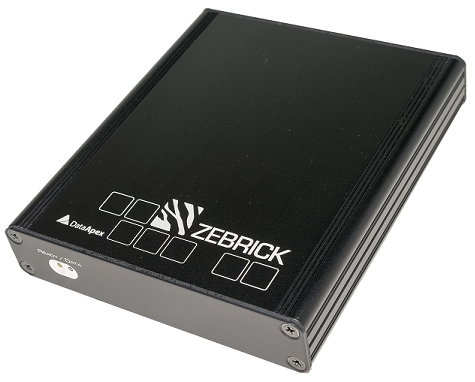 Brief list of features
Available inputs and outputs

• 4x 16-bit D/A converters
• 4x 28-bit D/f converters
• 8x auxiliary logical inputs and outputs
Other details

• Powered from the USB port
• Allows mounting on a rack
• Replaces CB20 PCI card
Specification
Zebrick
Voltage range
-10 V +10 V
Frequency range
0 Hz - 100 kHz
Digital inputs/outputs
8/8 TTL (5 V)
PC Interface
USB
Power source
USB, no external power adapter is required
Zebrick
Part No.
B30
Warranty
3 years
Related products
Clarity software - Part No. C50 (required)
LC Control - Part No. A24 (required)
PC Interface
USB
Cables included
Part No. KBCB, 2V+2f, length 3m, modification upon request
USB cable, Part No. SK10, length 1.8m
Compatibility
Windows 11
(64-bit)
Windows 10, 8.1, 7SP1
(all 32 and 64-bit)
Zebrick
Clarity (from 8.7)
Clarity (from 7.0)
Compatibility with obsolete operating systems
Windows XPSP3
(32-bit)
Zebrick
Clarity (from 7.0 to 7.4.1)