Control module for Ecom ECDA2800 UV-VIS PDA detector
The control module enables direct control of the Ecom ECDA2800 UV-VIS PDA detector over USB or LAN. The user can easily create the detector control method from the Method Setup - Acquisition and Method Setup - PDA tabs. All of the detector method parameters are then saved and can be added as a part of the report. The actual signal of the detector can be monitored and partly controlled from the Device Monitor window. Control is realized via a standard PC serial port using the specified cable (based on the communication type selected).
The control module was developed by the ECOM company, any further information, including the control module manual, may be obtained from the ECOM company.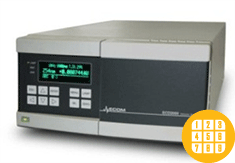 ---
Specification
Ecom ECDA2000 Control
Controlled instruments
Ecom ECDA2800 UV-VIS PDA detector
Communication interface
USB or LAN
Purchasing
LC Control (p/n A24)
Related products
Clarity (p/n C50)
PDA Extension (p/n A29)
Cable
USB A-B (p/n SK06) in case of serial interface (Virtual COM Port)
or
LAN Cross (p/n SK08) in case of LAN interface