Net-PAD - External Ethernet A/D Converter
Net-PAD is an external 24-bit A/D converter communicating with a PC over Ethernet through a TCP/IP protocol. Discontinued from sale as of August 2014.
Net-PAD is an external high-resolution A/D converter for chromatography data acquisition. Net-PAD communicates with a PC over Ethernet through a TCP/IP protocol. Clarity Chromatography Station, configured with Net-PAD converter, enables users to acquire chromatography data from remote instruments without the necessity of installing additional cables. Net-PAD is compatible with any GC, HPLC, GPC, IC, CE system with a standard analog output. The Clarity Chromatography Station can handle any combination of available DataApex converters (internal PCI, external USB, and TCP/IP). Net-PAD has been discontinued from sale since 2014.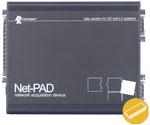 Accessories:
Cable p/n KB72
LAN cable p/n SK10
Supply adapter (6V)
Specification
Net-PAD
Converter type
24 bit integrating, sigma - delta
Analog inputs
symmetrical, mutually isolated
Number of A/D channels
2
Input range
unipolar and bipolar, each channel independently 156, 1250 or 12 858 mV
Input impedance
1 MOhm
Conversion time
50 Hz rejection: 10, 20, 40, 80, and 160 ms
60 Hz rejection: 8.3, 16.7, 33.3, 66.7, and 133.3 ms
Non-linearity
< 0.0007 %
Temperature dependence
< 10 ppm/°C
Digital inputs
4 TTL (5 V), the first two can be controlled using the built-in opto-electronic unit (2-5 mA current)
Digital outputs
8 TTL (5V, maximum current load 30 mA), the first four are equipped also with contact relays (100 V/0.5 A)
Auxiliary ports
2x RS232 serial communication
Dimensions
133 x 105 x 21 mm (W x H x D)
External power supply
6 V/250 mA
Network Communication:
| | |
| --- | --- |
| | Net-PAD |
| Protocol | TCP/IP |
| IP Address | configurable |
| Ethernet (LAN) | 10Mb/sec |
| Connector | RJ-45 (twisted pair) |
Possible combinations:
* From Clarity 3.0 the 64-bit OS is supported.
Combinations with obsolete operating systems:
* From Clarity 3.0 the 64-bit OS is supported.