INT7 - PCI Board of A/D Integration Converters
INT7 is an internal 24-bit A/D converter for the PCI bus. The INT7 is a first PCI card developed after the INT5 A/D converter. Discontinued from sale as of February 2013.
INT7 is an internal 24-bit A/D converter board that measures the voltages of chromatographic and electrochemical detectors. It contains up to 4 data-acquisition channels on one board (one and two channel versions are also available). The channels are completely independent, sigma delta integrating A/D converters, used for processing positive and negative voltages. The board includes four digital inputs and eight digital outputs. The first four digital outputs are also equipped also with relay contacts. The board is manufactured using the SMT montage and provides excellent reliability and temperature stability.
INT7 is the direct successor of our classic INT5 ISA card. The two share an identical analog channel design and thus, identical basic electric parameters.
Advantages of the INT7 A/D converter:
No loss of input signal during integration. There are no time delays during which the converter fails to integrate the input signal.
There is no continuous servicing of the input analog switches, which would otherwise cause errors (offset, noise, etc.).
The amount of data entering the computer is substantially smaller, since individual data items already represent partial integrals.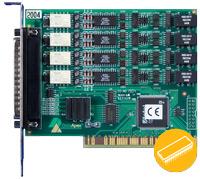 Replacement options
Most current PC do not have the obsolete PCI slot for this card, USB port is used instead.
Accessories:
Specification
INT7
Converter type
24 bit integrating, delta-sigma integration
Analog inputs
differential
Number of channels
1, 2 or 4 fully independent, mutually isolated
Input range
unipolar and bipolar, each channel independentely: 156, 1250 or 10 000 mV
Input impedance
> 10 MOhm
Sample rate
10, 25.04, 50.08, 100.16 Hz
Non-linearity
Temperature dependence
Digital inputs
4 TTL (5 V), the first two can be controlled using the built-in opto-couplers
Digital outputs
8 TTL (5V), maximum current load 20 mA), the first four control relays
Required PCI slot:
Full size PCI 2.0, 32 bit PCI slot for 5V 32 bits half-length extension card.
Low profile or PCI Express slots cannot be used.
Effective resolution for various acquisition speeds and input ranges:
| | | | |
| --- | --- | --- | --- |
| | 10 V | 1 250 mV | 156 mV |
| 10 Hz | 20 bit | 19 bit | 16 bit |
| 50.08 Hz | 18 bit | 17 bit | 15 bit |
| 100.16 Hz | 17 bit | 15 bit | 14 bit |
Possible combinations:
* From Clarity (Lite) 3.0 the 64-bit OS is supported.
Combinations with obsolete operating systems:
* From Clarity (Lite) 3.0 the 64-bit OS is supported.