Login
Command for opening respective Instrument. Opened Instruments are checked.
The Instrument window can also be opened by clicking directly on the Instrument's picture in the main Clarity window or using a Ctrl + 1 shortcut (2, 3, 4 for further Instruments).
If you have user account, the Login Dialog will be displayed after the prompt. Here you select your username from the drop-down list. Choose the user name and fill in the password to log to the Clarity Instrument. For heightened security, asterisks ("*") are displayed on your screen when entering a password instead of characters.
Note:
After the password has been entered erroneously three times, it is necessary to restart the Clarity station.
If the station is in "not restricted" (no password) mode, and therefore no user account exists, the dialog for entering your name will be displayed. The entered name will be saved in all files which you create during your session. You can quickly change the current project or create a new project in Select Project combobox. Project offered by default is the last one used by selected user (as saved in user's desktop file) or the last one used in default desktop file (where no user's are created). In case Clarity's command line parameters are used, it is possible to choose project offered through these parameters, either by directly selecting appropriate project or by selecting user with particular project in his desktop file.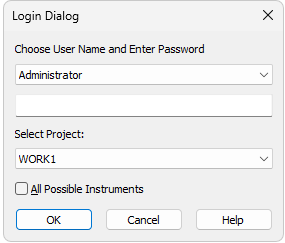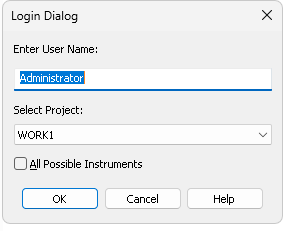 Login dialog and Username dialog
All Possible Instruments
If you have checked All Possible Instruments box, then all available Instruments that you have access to will be opened.
Note:
A modification of the Login Dialog also appears when configuring, setting user accounts or creating electronic signatures.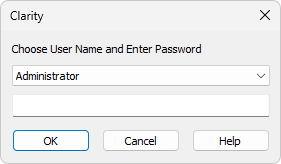 Login dialog when opening System Configuration or User Accounts
After receiving your username from the administrator and logging in to the station for the first time, you will receive a verification notice and be prompted to enter your password.

To prevent keying mistakes during the initial login process, you will be prompted to enter your password two times.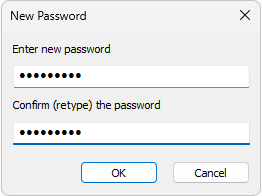 The administrator can set and control the conditions of a password, allowing for a minimum number of characters and/or the time limit of a password's validity. After a password expires, you will be prompted to enter a new password.