Control module for the HPLC system
The Hitachi LaChrom Elite HPLC Control module allows for direct control of the HPLC system over USB. The system may include pumps, detector, column oven (LC Control licence) and autosampler (requires AS Control license).
All parameters including parameters controlling pump behavior in the Idle state, acquisition conditions or temperature program are a part of the method. Therefore it is possible to create various acquisition methods and choose between them only by loading the corresponding method. Actual flow rates of each gradient component and their overall sum and pressure can be monitored in the independent Device Monitor.
A single Clarity station can only control one Hitachi LaChrom Elite HPLC system. This is the restriction of the communication protocol used to perform the instrument control.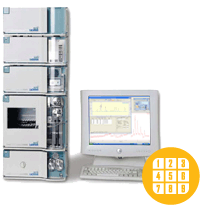 ---
Specification
Hitachi LaChrom Elite Control
Supported operating systems
Windows XP SP3 (supported until Clarity 7.4.1 only)
Communication interface
USB
Purchasing
LC Control (p/n A24)
AS Control (p/n A26) - optional
Related products
Clarity (p/n C50)
Cable
USB A-B cable (p/n SK06)
| | |
| --- | --- |
| | List of controlled subdevices of the Hitachi LaChrom Elite HPLC system: |
| Detectors | L-2400 |
| Pumps | L-2100, L2130 |
| Autosamplers | L-2200 |
| Column Ovens | L-2300 |