Troubleshooting
If you do not find your answers here, use the www.dataapex.com website where the Support menu will navigate you to frequently asked questions (FAQ), Clarity forum or contact to DataApex helpdesk. Please note we can request collecting some of configuration files, in case you have an e-mail client installed, you can collect those files using the menu Help - Send Report by E-mail in main Clarity window.
Note:
You may find other Error Messages and solutions for problems connected to particular hardware in their respective manuals.
DataApex also provides remote support to registered customers in case of complicated issues. In the Windows Start menu - Programs - Clarity please find the TeamViewer QuickSupport application.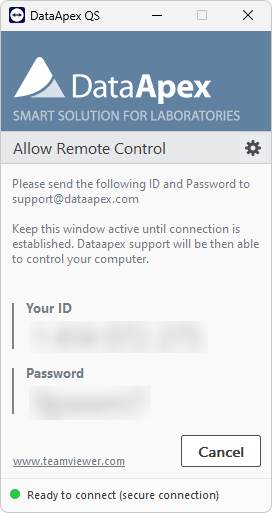 TeamViewer QuickSupport application
Before using the TeamViewer QuickSupport application, user is advised to contact DataApex Technical Support (support@dataapex.com) first for troubleshooting via this option.
This function serves as a last option while troubleshooting a problem.